How IDPs from Donbas lend a hand to communities in Kharkiv region

One of the major questions of social adjustment among internally displaced persons (IDP) is their employment. Having got the job, they would finally be able have a permanent place for living, as well as help resolve some issues with lacking labor resources in a new community. Some in-migrants in the Kharkiv region manage to overcome this, thus helping the new society. And in other areas, IDPs could have improved demographic situation in terms of employable population. However, all of this is clouded by one major problem, which is the lack of residential space.
No houses – no specialists

As estimated by the Ministry of Social Politics, more than 1.6 million persons moved to Ukraine-controlled territories as of early 2017 from the occupied Donbas. These numbers include only those registered as in-migrants, obtained the statement and requested social assistance from the state. However, there are people who tried to make it on their own in a new place, without any registration. in two months (February – March 2017) the International Organization for Migration (МОМ) with the journalist from hromadske.ua have interview above 4000 in-migrants in 24 regions of Ukraine. Turns out, employment is the major problem among in-migrants in a new place. Thus, only slightly more than 40% of these people have found job there. Less than 30% are unemployed, and approximately the same number of the interviewed reported that they don't have to work at all due to pensions or social payments for disability or maternity leave. In-migrants have also problems with living space: 70% of the interviewed mentioned this in their replies. Almost one third of them complaint of living conditions, 23% have are not able to pay the rent, and 20% have issues with paying for utilities. Two thirds of persons displaced from Donbas rent residential space (apartments, houses, rooms). Baying their own house or apartment seems for in-migrants unreal, but they seem content with at least what they have, i.e., electricity, fresh water and utilities. SK studied these issues among in-migrants in the Kharkiv region on the example of several district of the region. For example, as said by Oleksandr Lysianskyi, head for labor administration and social protection of population at the Chuhuiv District State Administration, more than thousand in-migrants live in their district, and the majority of them are pensioners. – Currently, the territory of the Chuhuiv district is occupied by 1300 in-migrants, and among them 1000 are pensioners. The rest includes children and employable in-migrants, but only some twenty persons referred to the employment service, explains Oleksandr Lysianskyi. He also told us that the district has no distinctions between native resident and in-migrants. Internally displaced persons are the same members of the community. Although, they receive a little bit more attention, since special circumstances make then leave their houses and search for new places. And they received all social services they may have from the state. Of course, some difficulties certainly arise. Results of studies conducted by International Organization for Migration demonstrate difficulties with residential space, which was also confirmed by Oleksandr Lysianskyi. – Search of living space for IDP is a serious problem. A great scope of work was made to make living space available for people. And only 2-5% of in-migrants were able to buy houses or apartments on their own. Others were living at their relatives' houses or rented apartments/houses, says Lysianskyi. If possible, local authorities of towns and villages help in-migrants in their search. For example, Kamiana Iaruha village council helped one of the families to find a house. As Olga Mykhailva, the secretary of this council temporary deputy of the chairperson, said to SK, one of local villagers voluntarily gave her house to in-migrants. – In 2014, we had one family from Pervomaisk of the Luhansk region. They had a month-old infant. One of our local villagers Vira Borysivna selflessly gave her house to the Tretiakov family. This house was inherited by her, and was just empty. The roof required major repair, but the house is absolutely fit for living. We plan to do it by autumn, until season rain starts, says Olga Mykhailova. This family, as all other in-migrants (totally twelve in this area) receives care and assistance. Village council provides them financial help, and the citizens give them clothes, food etc. One of local families started taking care of the Tretiakov family bringing them food, clothes etc. According to Olga Mykhailova, among twelve in-migrants living in the village, except for the above-mentioned family, all other persons live at their relatives. The number of IDPs could have been much higher, however, lack of residential space is a serious problem. – Except for those in-migrants constantly living here, we had more people coming here. They liked our village, specifically, due to its location, because it is easy to get to Kharkiv and Cuhuiev. However, lack of houses and financial insolvency of people keep citizens away from out village, explains the village council secretary. Our village suffers a great lack of workers, we need nurses to family outpatient department, we need a teacher of Russian etc. If we had free houses, we would gladly engage new specialists and provided them houses. But all we can do is wait for native villagers coming back to work here.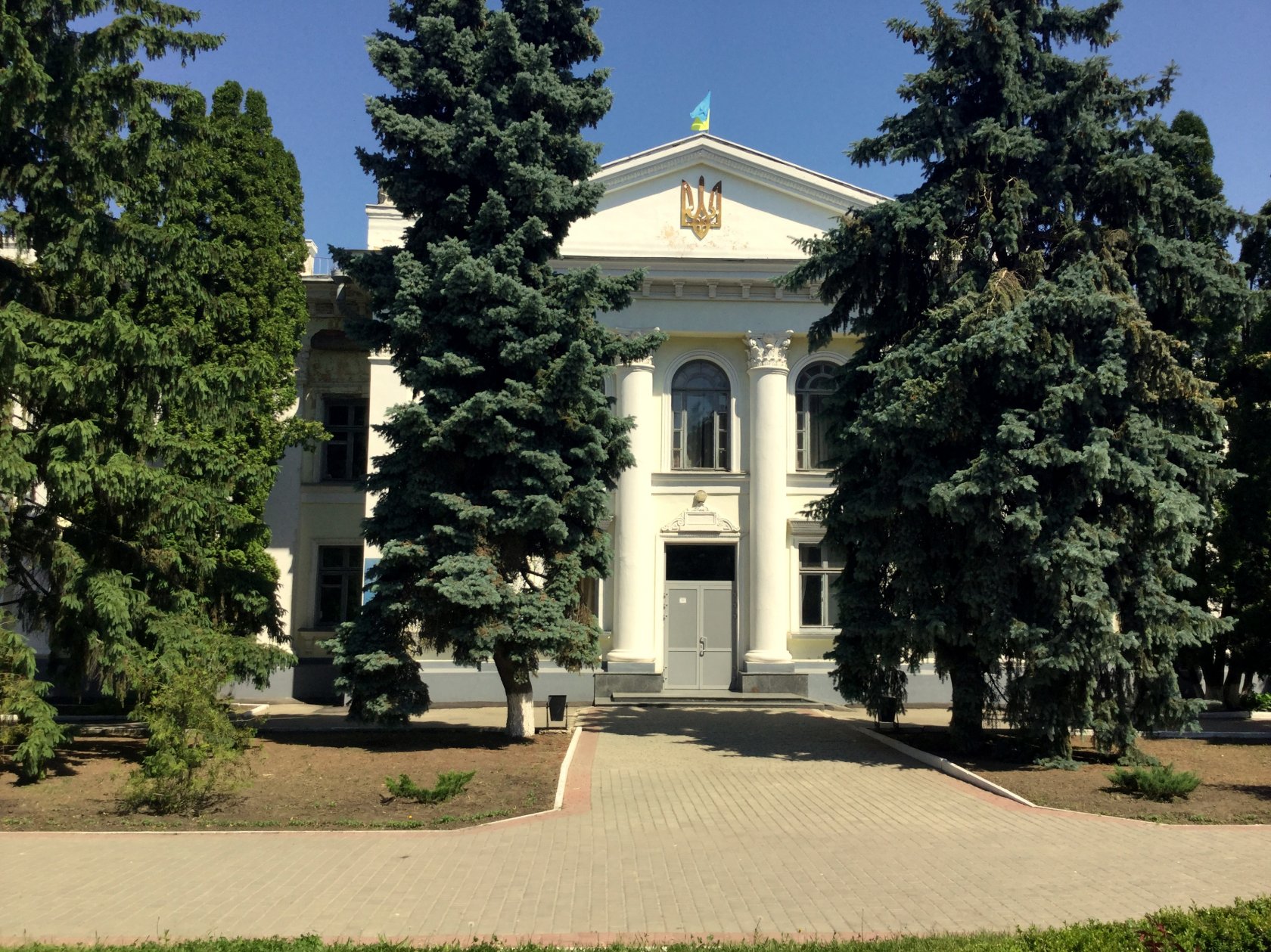 Unforgettable meeting with Amador

In-migrants could have improved the situation with lacking labor resources in Kamiana Iaruha, however, lack of houses makes it all impossible. if we move to the east of the Chuhuiv district and visit Kochetok, we'll see a better situation. Several families from Horlivka live here, and they work at the local ambulance. These people helped to improve medical situation which, according to Halyna Siroshtan, acting chairperson of the Administration of Health of the Kharkiv Regional State Administration, requires improvement. – Family physicians in the area satisfy the need in medical staff only by 70%, and in rural area only by 58%, and among them 30% of working pensioners. Such disproportions may create risks in provision of medical care. Currently, the Ministry of Health develops a guaranteed level to provide medical care – primary care and emergency care, explains Halyna Siroshtan. Two families of healthcare practitioners live now in Kochetok, where several dozens of people live, says Oleksandr Svitailo, chairman of the village council. – In 2014, the village population is about 40 persons. We have also people who live here for one-two weeks and leave, explains Oleksandr Svitailo. We never had major lack of labor resources, however, we met entrepreneurs and discussed how we could support these people, and also in terms of employment. Some people found jobs in hospitals, others at schools. The pensioner Vira Horbatsiuk together with her daughter Natalia Susenko and two grandchildren (one child was four, and the other was preparing to enter the university at that time) came to Kochetok on November 20, 2014. Her friend Ira came there to spend her vacation in summer that year. Then, the ware started in Donbas. The woman told us that she received no salary and pension due to military conflict, and she had to leave her native town to make her living. – Life conditions made me change my place of residence. Ira, my daughter's friend, who was working as medical assistant in Horlivka with her, found a job here and help us with the house in Kochetok, says the woman. My daughter, with her more than 20 year of experience as paramedic of the ambulance, solved her employment issues from the distance. Fortunately, they had vacancies. We went to Kochetok and already knew that my daughter has got a job. We came on November 20, she was employed within ten days, and on December 1, Natalia was already working. She works as a paramedic here for more than two and a half years now. Kochetok, though, is not the first place of residence for the Horbatsiuk family. First, in 2014, they were living in the Pivdennyi of the Kharkiv region, where they rented an apartment with their relatives, but they could not stay there for some reasons, and came back home, to Horlivka. And then, at the end of autumn, the went to Kochetok, where they still live.

– My granddaughter met a small boy here, and his mom had an apartment free. She inherited it. We started living there, although first we lived at another place, remembers Vira. Locals treated us very well, no one looked at us differently because of our status, and no one treated us as lower people. The pensioner also remembers that the youngest member of the family, who turned six by now, has adjusted in the new society very well. Certainly, continuous explosions and gunshots in Donbas scared the little girl, but then, when the family moved there, she got better, and now she feels good, visits painting classes, dances. Among her brightest, most recent impressions, the girl names meeting with the famous choreographer and singer Amador Lopez at the dancing competition. He was one of the judges there. Although living well here, Vira Horbatsiuk still hopes to come back home one day. – I don't; know about my daughter with her children, but I will certainly come back home as soon as this situation is over. I have a three-room apartment there, may daughter also. Before all of this started, I renewed my apartment quite well. God forbid that all of this is bombed, that would be terrible, sighs the woman. Iryna Kravchenko was the so-called path breaker from Horlivka in Kochetok. This woman was the one who helped that family. She lives here with mom, aunt and her 14-year old son. – When I came to spend my summer vacation to my friend, the ware started in Donbas, and I decided to stay here. I found a job as paramedic of the ambulance. This was the same job I had in Horlivka. Many towns lack medical assistants and doctors, so I had no difficulties finding this job. First I was working half-shift combining my work with that in Horlivka, however, when thing there got even more complicated, I left that job and started working here full-time. First Ira was living at her friends, but then decided to rent a separate house, because it was not easy to fit in one small room together with mom and son. Then mom's sister also came. She had her legs non-functioning, that's was she was using a wheelchair. Iryna says that people treated them well in a new society.
– Both at work and outside, all people treated us well. I have many friends here, who respected us and help any time we need them. No aggression that we are newcomers, in-migrants – I had none of this. But most importantly, my son feels comfortable here. First he missed his friends, but then he adjusted in Kochetok, and found even more friends than at home. They treat him well at school, both his classmates and teachers, says Iryna.
Iryna Kravchenko, Paramedic, an IDP from Horlivka
More than a year without a doctor

Iryna's friend, Nina Dzuiba, is also now in Kochetok, but first they lived in another place. – First me and my mom, who is almost totally blind, came to Vovchansk, where my father is buried. We lived at our relatives for some time. When it was clear that the war is not going to stop soon, we started looking for our own place, says the woman. First we lived at Vilchi of the Vovchansk region. Local authorities treated us very well there, they helped us a lot. We, though, could not stay there as the house owners had other plans, and we had to look for a new place to stay.

As several compatriots were also living in Kochetok, from October 2016 Nona with her mom moved here. The woman had been working as a nurse at the mine for ten years at tome, and before this as a paramedic for almost as long. She says that if it wasn't for her sick mommy, who need constant care, and her personal problems with health, she would be gladly working as paramedic. However, Nina helps Iryna taking care of relatives while she is at work. One more in-migrants healthcare practitioner also improved the situation with labor force with their coming here. A family of in-migrants Sukhiny from Makivka of the Donetsk region is living now in Krasnohrad, however, it was not the first place they came. – My father-in-law is from Kehychivka district. We came there twice, in 2014 and in 2015. When we came there for the second time, for certain reasons we were not able to stay at our relatives, so we had to look for our own place to stay, remembers Liudmyla Sukhina. At that time we were lucky to get in touch with people who gave us a place to live without any payments. This place was just empty. We need to make out living, so we started looking for a job. Liudmyla is an endocrinologist with 18-year experience and higher category in endocrinology, and her husband Dmytro is a dentist. First they started looking for a job in Kehychivka, but had no luck there. Then they went to neighboring villages. Her husband found a job in Pervomaisk, and Liudmyla was employed at the Krasnohrad district hospital. Then Dmytro Sukhin found a job in Krasnohrad with the help of local authorities, and from beginning of August 2015, the family lives here. – That endocrinologist who worked here went to Kharkiv five years ago. Then they had an intern who completed his internship and returned to his native town because had no place to live, so it was senseless to stay here. His salary was less than the rent. So for more than a year, this hospital had no endocrinologist, explains the doctor. First, says Liudmyla, some patients treated her not so well, but now people are mostly content that they don't have to go to Kharkiv for any whatever happens to them. Their life is mostly good here, however, they would also be happy to return home when all of this ends.

As of beginning of 2017, more than 1.6 million people moved to Ukraine-controlled territories from Donbas. As evidenced by interview among more than 4 000 in-migrants in 24 regions of Ukraine, only slightly more than 40% of these people have found job there. Less than 30% are unemployed, and approximately the same number of the interviewed reported that they don't have to work at all due to pensions or social payments for disability or maternity leave. In-migrants have also problems with living space: 70% of the interviewed mentioned this in their replies. Almost one third of them complaint of living conditions, 23% have are not able to pay the rent, and 20% have issues with paying for utilities
Author: Oleksandr Harkavets, resident correspondent
http://project271664.tilda.ws/

* * *

This article has been prepared in a framework of the Regional Voices project, supported by the European Union.