I have my rights, but I don't want to fight
Laws for in-migrants may be amended
The law on internally displaced persons need to be improved, says the Verkhovna Rada. Three years through the military conflict in Donetsk and Luhansk region, the Parliament started talking about major revision of in-migrant laws.
Revision of the law
The decision made by the Cabinet of Ministers of Ukraine when military conflict started in 2014, is discriminative against in-migrants. This is said at the official web-portal of the Verkhovna Rada of Ukraine by the Chairman of the VK of Ukraine for social policy, employment and pension provision Liudmyla Denisova. Particularly, says she, the current legislation describes the mechanism to obtain the status of an internally displaced person (IDP), although, no reverse procedure exists that would not restrict a person's rights. E.g., if a person refuses from an in-migrant status, such person also refuses from his/her pension. In-migrants have electronic cards which are automatically closed without IDP status, and the Pension Fund is obliged to request a paper pension case which is usually left at the occupied area. – We struggle to solve these problems and use all out possibilities, but some matters may not be solved by us, since they belong only to authorities of the Cabinet of Ministers of Ukraine, explains Liudmyla Denisova. Problems with refusal from IDP status are not the only ones for in-migrants. Human right defenders say that in one year, in-migrants suffered greatly due the Resolution of the Cabinet of Ministers No. 365. According to it, an actual place of residence of IDP should be verified, and a special commission should be formed that would decide upon discontinuation of social payments, including pensions, based on such verifications. – In the last five months, more than 800 persons address with non-payment of social assistance to the Kharkiv Office of the Right to Protection Budget Fund, and generally in this period, we received more than 10 000 applications. Half of them come from pensioners, elderlies who do not get their pensions for months, says Liubov Butenko, the head of the Kharkiv Office of the Right to Protection Budget Fund. The inspections are conducted once each half year, however, we greatly lack labor force for inspections. Particularly, in the Moscow district of Kharkiv, there are about 25 000 of in-migrants who are inspected by social workers. Such situation is topical for all districts of the town and region in the whole. – The inspections are conducted in working hours: children are at school, people are at work, if they are employed. There are pensioners, but they may go to a hospital, to the food store. The inspection comes, no one is at home, inspectors put 'no one is at home' and cancel everything. I understand that they also work in their normal working hours, they don't have to work at their weekends or in the evenings. However, if a child goes to school, he/she is officially at an educational institution, or if a person if officially employed. To my opinion, this procedure could have been made less complicated, tells us Olha Averina, a freelance counselor of the Ministry of Social Policy for IDP in the Kharkiv region (and acting chairperson in the Luhansk region). The inspection of in-migrant was started to prevent the so-called 'pension tourism'. However, a local shady business developed instead, says human right defenders, that is associated with sale of addresses for IDP registration. In-migrants are promised 'due' inspections of actual place of residence. However, such 'agent' services mostly fail to change the final result. i.e., the payments are stopped.
They stood for their rights twice

Olena Didenko, an in-migrant from Donetsk, says that she was also a victim of social non-payment. About three years ago, the woman was forced to leave her house in the Donetsk region, and to move to Zolochevo in Kharkiv region. When she had a baby, they refused to give her a payment for the baby. They said that she had to register her child at the place of mother's residence, and only then she will have her payment. As the family is from Donetsk, this condition was impossible to fulfill. The family applied to human right defenders, and they found out that there are no such requirements in the law. The family received their payment for all four months. And half year ago, Olena abruptly stopped receiving the payment of address assistance because she and her husband owned a room at the dormitory in Kramatorsk. The family applied to the court, the claim was satisfied, and their payment renewed. – I cannot say we had a lot of problems due to our status. Perhaps, the most serious ones were these payments. But you know, sometimes we don't understand some things. We wanted to change a place of living recently and applied to realtors. We were waned immediately that it may turn out impossible, as owners don't want to allow people from Luhansk and Donets regions to their apartments. We had to hide our origin, says Olena Didenko. The Didenko family had the courage to defend their rights. But there are people who don't believe in this, and their number is much higher. The representative of Stantsyia Kharkiv civil organization told us about this. – Only minor percentage of people believes in law. Some of them even manage to defend their rights. Most people 'don't want to fight', as they don't believe that they claims may be satisfied, says Alla Feshchenko, head of the address assistance department of Stantsyia Kharkiv. The expert says that there are cases when doctors in medical institutions say 'We don't admit these people today', or refuse to put stamps on statements so that in-migrants cannot receive medical care. Alla recommends people in such cases to call to the governmental hot line, but the answer of in-migrants is basically the same all the time: "We don't want to fight".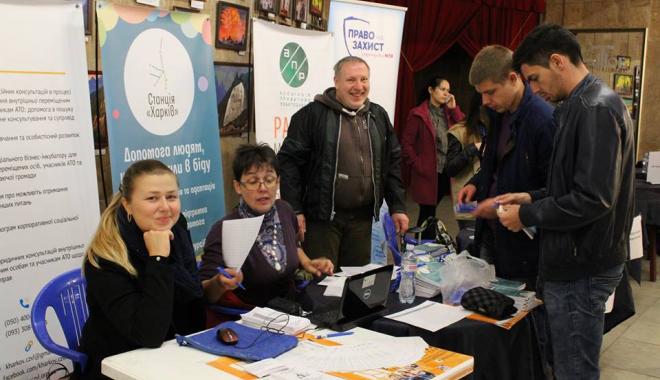 Four months without pension
Due to information isolation people may also be left without social assistance. Mostly, this concerns people in villages and pensioners. The counselor Olga Averina emphasizes that this is one of the most complicating factor in her work. For example, she recently received a call from an old lady from Schevchenko district and asked her for help, as she has not been receiving pension for four months now. We asked her, "What do you live for?". And she replied that she has a garden, and manages to get through. The old woman asked for help only because she needed money for medical care. When we talked, it was clear she had no idea that the statement for pension payment had to be renewed each half year. – There are people in villages who even don't know about some humanitarian programs, says the a freelance counselor of the Ministry of Social Policy for IDP. There are people who left and failed to register, thus, received no assistance. They say that have no information, have no idea about social programs and how they work. They cannot even ask for medicines. Information support is highly required. Currently, in-migrants have less problems, the so-called acute phase is over. People are just tired of screaming all the time. They want to know clear and fair rules of the game with the state.
http://project278558.tilda.ws/
* * *

This article has been prepared in a framework of the Regional Voices project, supported by the European Union.